Undrained filters are collected in a range of containers, either 200L smooth rolled top edged steel drums, 360 litre wheelie bins or 1000L open-top plastic lined IBC's. (View collection options and sizes page)
The collection truck is fitted with a hydraulic tail lift to enable self-loading by the driver without the need for an on-site fork hoist (except IBC's where weight prohibits manual handling). Loaded bins are transported back to our Wiri depot for processing either on a scheduled pick up or upon request.
Once delivered to our Wiri processing plant, filters are drained and shredded, and the waste oil is recycled. The washed product is separated into metallic and non-metallic components and the metal product is sent to a scrap metal merchant. The shredded product is then available for use in local manufacture, for products such as reinforcing products used in the building and construction industry.
At Salters we DO NOT crush whole filters into bricks and send them to the scrap metal merchant. We provide a cleaned and shredded product that gives a higher-grade scrap metal, free of filter linings and other non-metal components, which increases its viability for recycling. The cleaned non-metallic residue is disposed to deep burial at Hampton Downs, but this amount is nominal.
We also offer steel drum collection and recycling. Drums are shredded, any residual waste oil extracted and also sent for recycling.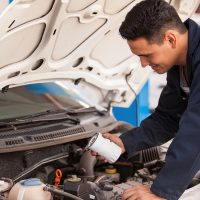 Plastic Oil Container Recycling
Used plastic oil container collection is mainly collected in 660 litre wheelie bins or in 1000 litre IBC cages, without the plastic liner. Containers do not need to be rinsed prior to being collected.
Once at our Wiri depot the plastics are shredded, and the waste oil extracted. They are then cleaned and put into bins ready for processing at Future Post in Waiuku. The provision and delivery of this product to Future Post is non-revenue generating, but it ensures the plastic is sustainably and locally recycled
Used oil workshop rags and absorbents are collected in 360 litre wheelie bins or 1000L open-top plastic lined IBC's. See options below.
Once at our Wiri depot the oil is extracted and the rags are disposed at Hampton Downs deep burial site.
Collection Options for Recycling
(N.B. must be rolled top
with NO sharp edges)
H – 900 mm
Dia – 610 mm

H – 1097mm
D – 899mm
W – 662mm

 H – 1170mm
D – 1200mm
W – 1000mm
H – 1215mm
D – 784mm
W – 1370mm
 H – 1170mm
D – 1200mm
W – 1000mm
RAG & ABSORBENTS DISPOSAL
WHEELIE BIN
(Yellow) 360L
H – 1097mm
D – 899mm
W – 662mm

 H – 1170mm
D – 1200mm
W – 1000mm
• Filters and plastics must NOT be crushed or an additional charge may apply
• Filters and rags/absorbents should not be MIXED or a sorting charge may apply
• Damaged or lost plastic wheelie bins may be charged for replacement
Messaging Your Recycling Efforts
By choosing Salters as your workshop recycling provider, we think it is important your customers understand you are taking positive steps to ensure you are acting in an environmentally responsible manner.
With this in mind, we have developed marketing materials, which include counter information you can display.
We can discuss how you might want to use these to promote your choice and make your customers aware of your commitment to "Proudly Recycling Locally"
Proudly recycling locally